Dan LaGrou, the president of D&D Fabrications, background is cars. Performance cars. He was a drag racer in the later 1950s and 60s, racing a C/Altered 1953 Vette that ran 9.10 ETs at 143 miles per hour. On nine inch tires! Later, he participated in SCCA Pro Rally, preparing and maintaining two Jeeps that won the National Championship.
In 1973, he built his first V8 Vega project, shoe-horning a 215 into a 1973 model. "The car was so much fun to drive, it was hard to believe," claims Dan. Fired by that enthusiasm, he quickly learned everything he could about this incredible aluminum motor, and soon formed D & D Fabrications, Inc. expressly to produce Vega 215 swap kits. He has sold over 2,200 so far.
Meanwhile, Dan spent 23 years in engine and chassis development at General Motors before leaving to form Vehicle Research & Development, a company specializing in dyno work, hot and cold environmental chamber testing, and prototype vehicle development. He was responsible for that 1991 GMC pick-up that hauled 210 mph at the Bonneville Salt Flats in Utah.
Then, in 1994, he retired to devote full time to D & D, which by then had expanded into street rod and custom automotive fabrication. The products you see on these pages are the result of the skill and passion gleaned in over 40 years of automotive experience. Be assured that the quality, performance, and the durability of D & D Fabrications' conversion kits and components are among the best in the performance world.
And then there's Mark...
Born in the early 60's, as D&D developed into 70's I was captivated by the development dad was doing with the magical V/8. Sure, he started me out with the greatest of jobs like sorting cylinder head bolts and such. I would evolve to an engine disassemble and parts washer. Later, I could grind slag off motor mounts, Wow!
I graduated high school, attended community college, and found my way to the new car dealerships. I spent 15 plus years in that capacity, going from service writer to fixed end manager, supervising at some times over 50 employees in the service,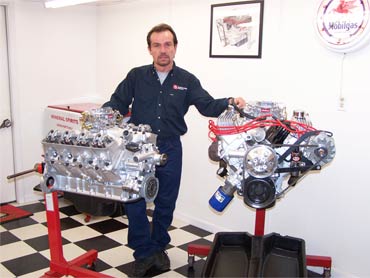 parts, and body shop areas of the dealership. I attained A.S.E. and state Master certification levels as well as M.S.U. state service managers certification status among other honors.
In the mid 90's I had the opportunity to join S.L.P. Engineering and their staff as an engineering shop foreman and liaison to their engineering community. Besides my responsibilities in qualification and purchase of materials and parts, directly overseeing vehicle builds for press coverage and corporate evaluation, and many other issues, this was a turning point in my professional career.
The demise of the "Camaro/Firebird" prompted me to go to American Axle & Mfg. where my similar skills were used to assist in the ultimate production the front suspension for the current Jeep Liberty and 4-wheel steering in the full size G.M. trucks, among other currently produced products in the axle and suspension areas. During all this time, I kept a part time interest in the D&D operations. After the events of 9/11 and corporate cutbacks, I decided to take this new level of experience back to D&D on a full time basis.
Today, I handle most all engine/vehicle builds personally. Phone inquires as well as part order fulfillment will be done by myself as well. All axle configurations are also done in house. Dad handles all specialty and custom fabrication as he's a "machinist" and I'm a "machine durability tester!"