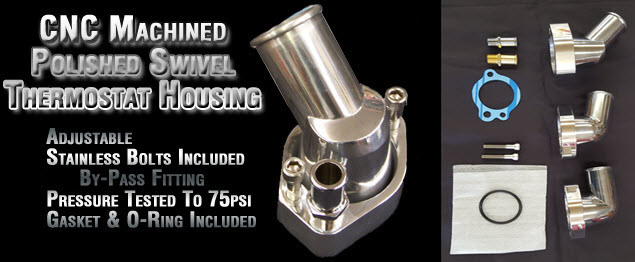 Kits available in 45, 75 and 90 degree hose connection angles.
---
NEW D&D 2014 PRODUCT

Problem:
Engines that restart hard after driving, excessive cranking required to refire. Most often in warmer temperatures, may include symptoms similar to a flooded engine.

Cause:
The fuel in the carburetor is getting too hot and often boils the float bowls dry after engine is shut down.

Solution:
D&D Carburetor Spacer Kit
Description- Our new carburetor spacer kit considerably improves this condition. The black phenolic plastic material has superior heat insulating properties. Kit includes gaskets and mounting studs with a material thickness of just over ¼" so under hood clearances remain uncompromised. Fits all intake and carburetor combinations.
---
NEW D&D 2014 PRODUCT

Item:
4-Speed Manual Transmission Floor Pan Section

Description:
1961 thru 1963 Buick Skylark & Special Oldsmobile Cutlass & F-85 4-Speed Manual Transmission Floor Pan Section.
These vehicles have very problematic factory automatic transmissions. One solution is to convert the car to a "Factory Style" 4-Speed Manual transmission. We offer this floor pan section which is an exact reproduction of the factory installed part and is necessary for transmission and shifter clearance. Made from high strength fiberglass and is simple to install.
Price: $225.00
---
NEW D&D 2014 PRODUCT

Item:
Automatic Transmission Close-Off Panel

Description:
This close-off panel is designed as a lower dust cover for use with our GM V-6 style transmission adapter kit. Fits all Buick, Oldsmobile, and Rover V-8 engines when the 60 degree 700-R4 transmissions from the following engines are used. 2.8L, 3.1L and 3.4L engines.
Price: $80.00
---
NEW D&D 2014 PRODUCT

Item:
Cast Aluminum Manual Shift Bellhousing

Description:
An "In-House" design that improves on the original '61-'63 Buick-Olds 4-Speed composite part.

- In-House Desgin, Patterns and Tooling
- Cast in Southeastern Michigan in 356 alloy with heat treat to T-6
- In-House CNC Machined to strick dimensional specifications
- All parts are individually qualified
- Set up for hydraulic clutch actuation but available for mechanical clutch fork
use for an additional charge
- Adapter plates available for most Ford bolt pattern T-5 transmissions with
Fox body 7.180" input shaft length.
3550 TKO - 7.850" input shaft length.

See Homepage Ad For Full Details

Call To Order
---
NEW D&D 2014 PRODUCT

Problem:
Street or Race Ignition Issues.

Solution:
D&D Proven Pertronix Ignition Systems.

Description- Pertronix ignition components available for most street or race aluminum v/8 applications. Opt for the "Second Strike" option and be a cut above the rest! The Second Strike adds a powerful second spark, optimizing performance through the entire RPM range as well as offering a digital rev limiter. These components are race proven and available as a kit or as individual components.
---
NEW D&D 2014 PRODUCT

Problem:
Rover/Buick Rocker Arm Shaft Failure - Bent or Broken Ends

Solution:
Part # BU33-RAS/RO33-RAS

We now manufacture Billet Aluminum rocker arm reinforcement stands to correct this problem. Race engine proven, this issue is becoming increasingly more common on street applications with camshaft or valve spring changes. Protect your investment with these "hand tool installed" items. Not interchangeable from Buick/Rover to Olds- application specific.
---
NEW D&D 2014 PRODUCT

Problem:
Oil starvation to pick-up tube in extreme incline/decline applications as well as extreme "G-force" applications.

Solution:
Dune Buggy/ Dry Sump oil pans.

Description - Hand made oil pan and pick-up configurations based on your intended usage. Race proven for Marine Hydroplane, Dune Buggy, Road Race, Chain Saw-yes, I said "chain saw" applications and more! Call for specifics. Made with .040 mild steel, available plain, painted hammer tone shown in photo, or ceramic plated.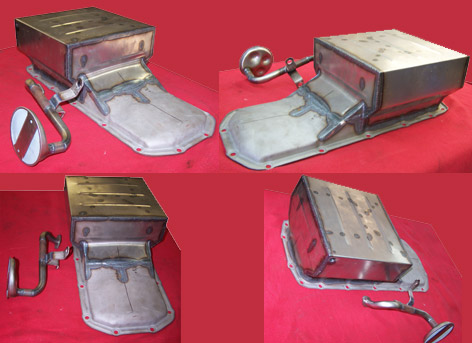 ---
NEW D&D 2014 PRODUCT

Problem:
Overheating concerns
Ugly/Wobble/No Water Pump Pulley

Solution:
Part# 3150 NK

Includes:

New, not remanufactured high volume pump
New "In House" CNC machined 5" diameter light weight pulley resulting in 20% pump overdrive - with pulley bolts
Gasket
---
NEW D&D 2014 PRODUCT

Problem:
Bad Main and Rod Bearings - Rover 4.0L & 4.6L

Solution:
D&D Bearing/Crankshaft Kits

Description: Standard and Undersize Rod and Main Bearing sets available for immediate delivery. Crank Kits also available. We are the ONLY U.S. SUPPLIER of undersize rod and mains for your 4.0L - 4.6L Rover Engine!